ROBERTS TURKEY CALL WINS GRAND NATIONAL FRICTION CHAMPIONSHIP!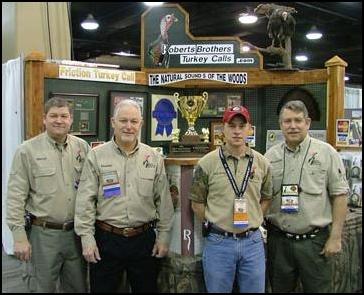 Jerry, Tommy, Justin and Kenneth with National Championship trophy.

Justin Savage won the first Grand National Friction Calling Championship on Feb. 23, 2006 at the
NWTF National Convention in Nashville, TN. Justin, a Roberts Pro Staffer from Gainesville, GA,
used a Hunter Model 100 call to outscore the competition. 17 contestants,
all state or local champions, competed in the first-ever Friction Calling National Championship.

Roberts Brothers call is Field & Stream's "BEST OF THE TEST!"
In a head-to-head comparison of eight top slate and glass calls, Field & Stream magazine
chose the Roberts Hunter Model 100 as their "Best of the Test" in the March, 2006 issue.
(note: The article states that the Roberts Brothers call comes with three strikers. It actually comes with two.)
click here to see article